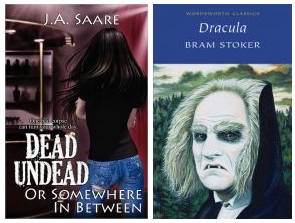 In the spirit of All Hallow's Read I am giving away a couple of books: Dracula by Bram Stoker, and Dead, Undead, or Somewhere in Between by J. A. Saare. Two books I love. They will be brand new books. All you need to do is to fill in the form below. Simple, eh?
The books will be ordered from The Book Depository and shipped off directly to the winners. They ship worldwide, and you can find the list of countries HERE. If your country isn't on the list, I'm afraid you can't join. But as you see, there's a lot of countries on that list!
The winners will be announced on Halloween, 31 October.