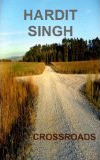 I got Crossroads by Hardit Singh as an e-book for free a little while ago, as I follow him om Twitter (@HarditSingh1). I'm always curious about new literature, and a short story like this was a nice break between everything else on my reading list.
Crossroads is the story about Robert, who on the day we meet him, has landed at Heathrow early. Instead of heading home, he has headed for a bar. There he meets the beautiful Elise. They soon find out that though they are strangers, they both find themselves in similar situations in their marriage. Together they make plans that will change their lives drastically…
Though this is a short and easy read, I really enjoyed it. Even though it touches something that could be heartbreaking and sad, it has a sense of humor. I found myself chuckle loudly more than once while reading it.
The story is a nice break in everyday life, and you can get it at Amazon (Kindle) or Kobo (ePub).