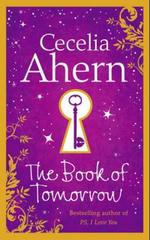 I first came across this in a book shop, and when I read the back it intrigued me. However, it was a Norwegian translation, and I generally prefer to read books in their original language, as long as I can read it. I ended up adding it to my bookcrossing wish list. Earlier this summer an Icelandic bookcrosser contacted me asking if I still wanted it, and it didn't take long before the book arrived in my mailbox.
The book of tomorrow by Cecelia Ahern is about the 16-year-old Tamara Goodwin, whose father recently passed away. After discovering he had huge economical problems, he decided to commit suicide, and Tamara and her mother are forced to sell the house and move to their relatives in the Irish countryside. Tamara, who has lived all her life in Dublin, finds the countryside boring, but one day a traveling library arrives, and here she finds a book that will change her life forever.
When I first started reading this book, I must admit it was slightly boring. But I have a standing rule that I give a book at least a hundred pages before I give in on it, so I continued reading it. Besides, it had been a gift from a bookcrosser in Iceland, so I felt obliged to finish it. Fortunately, it did pick up after a while, and with all its intrigues and secrets it actually turned out to be rather exiting.
This was an easy read, and though it had more than four hundred pages, it didn't take long to get through. I brought it along on my summer holidays, and it was the perfect read on the plane, at a café or on the beach.