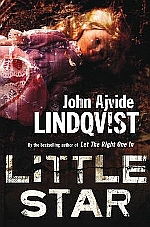 Little Star is written by the very same author who is known from the book, and the film, Let the Right One In. I have read the book in its original language, Swedish, Lilla stjärna, which was released in 2010. The English version is due to be released 29 September 2011.
Little Star starts with the former pop singer Lennart Cederström, who one day finds something in the woods he not at all expected to: Half buried, in a plastic bag, a baby girl. Lennart gives her the kiss of life, and to his surprise, her first cry is a pure, musical note. He takes the baby back to his wife, and persuades her that they should keep this remarkable child. They hide her in a room in the cellar, and keep her secret from the outside world. The girl turns out to be a strange and disturbed. When she reaches puberty, a terrifying scene sees her kill both her parents. Her adopted brother, Jeremy, takes care of her, but she is still a scared and lonely girl.
Not far from Stockholm, another lonely and strange girl lives an unhappy life. Bullied by her fellow school mates, she finds comfort in poetry, trolling the Internet and learning about wolves. After a while, the two girls get in touch, and forms a special and scary friendship. They form a powerful bond and soon they do things most people wouldn't even dream of doing.
Yet again Linqvist has managed to create a chilling story. It is at times grotesque, and is not for the faint hearted. Since I read it in Swedish, I don't know how the translation will turn out, but I found it to be well written. At times he used some slang, but in the setting it was used, it worked very well.
There were parts of the books I almost felt like the need to turn away, as it wasn't pretty, but I kept on reading. It gripped me from the very beginning, and I am already looking forward to read another book written by John Ajvide Lindqvist.